Mochi/Moji
Recipes
1 cup sweet rice flour (mochiko)
1 cup water
1/4 cup white sugar
1/2 cup cornstarch, for rolling out the dough
Materials
bowl
microwave
pot
spatula
plate
fork(for flip or use hand)
microwaveable container
cooking spray(if not have you will use oil or butter)
Wrap
Steps
1.Measure and pour the water, sugar, and rice flour into a bowl. If you want to color your mochi, drop 3 to 4 drops of food coloring into the bowl. Combine everything until it's a smooth paste, but don't over mix it.
2.Get a microwaveable container or small bundt pan and lightly coat it with cooking spray. You can also use a
microwavable glass pan.
3.Pour the mochi mixture into the sprayed container. Put plastic wrap over the top to keep in as much moisture as possible. The plastic wrap will rise while you microwave the mochi, and it is completely normal.
4.Microwave it for 1-2 minutes at a time. Check for even cooking. Cook for another 1-2 minutes at a time until the mochi is semi-transparent. It is best to check every 1-2 minutes as it is very easy to overcook the mochi especially in a high power (i.e., 1200 watt) microwave oven. Cut around the edges.
5.Let it cool down in the microwave for about 5 to 10 minutes.
6.Add a good handful of potato, tapioca or corn starch on a plate or pan.
7.Flip the mochi on the starched surface.
8.Use a plastic knife to cut the mochi into pieces and cover the pieces with the starch. Optionally, roll the pieces into balls before coating.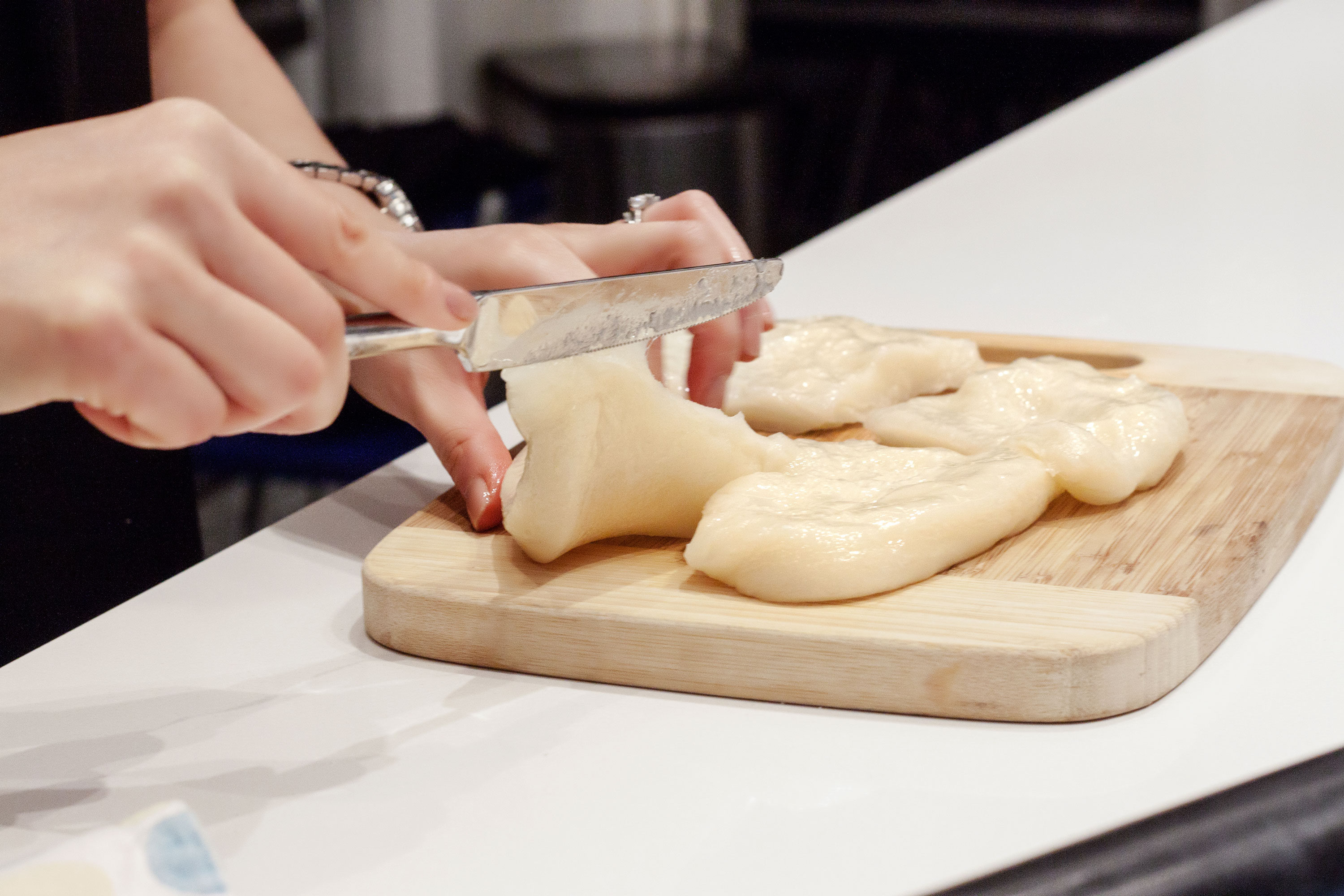 Finish
CR: https://www.wikihow.com/Make-Microwave-Mochi
https://media-cdn.tripadvisor.com/media/photo-s/04/4c/11/d7/mochi-cream-akiba-tolim.jpg
http://dwumenp4rf1cd.cloudfront.net/wp-content/uploads/2017/07/Mochi-Ice-Cream-678×381.png
https://video-images.vice.com/_uncategorized/1490971609668-little-moons-mochi-balls-ice-cream1.jpeg